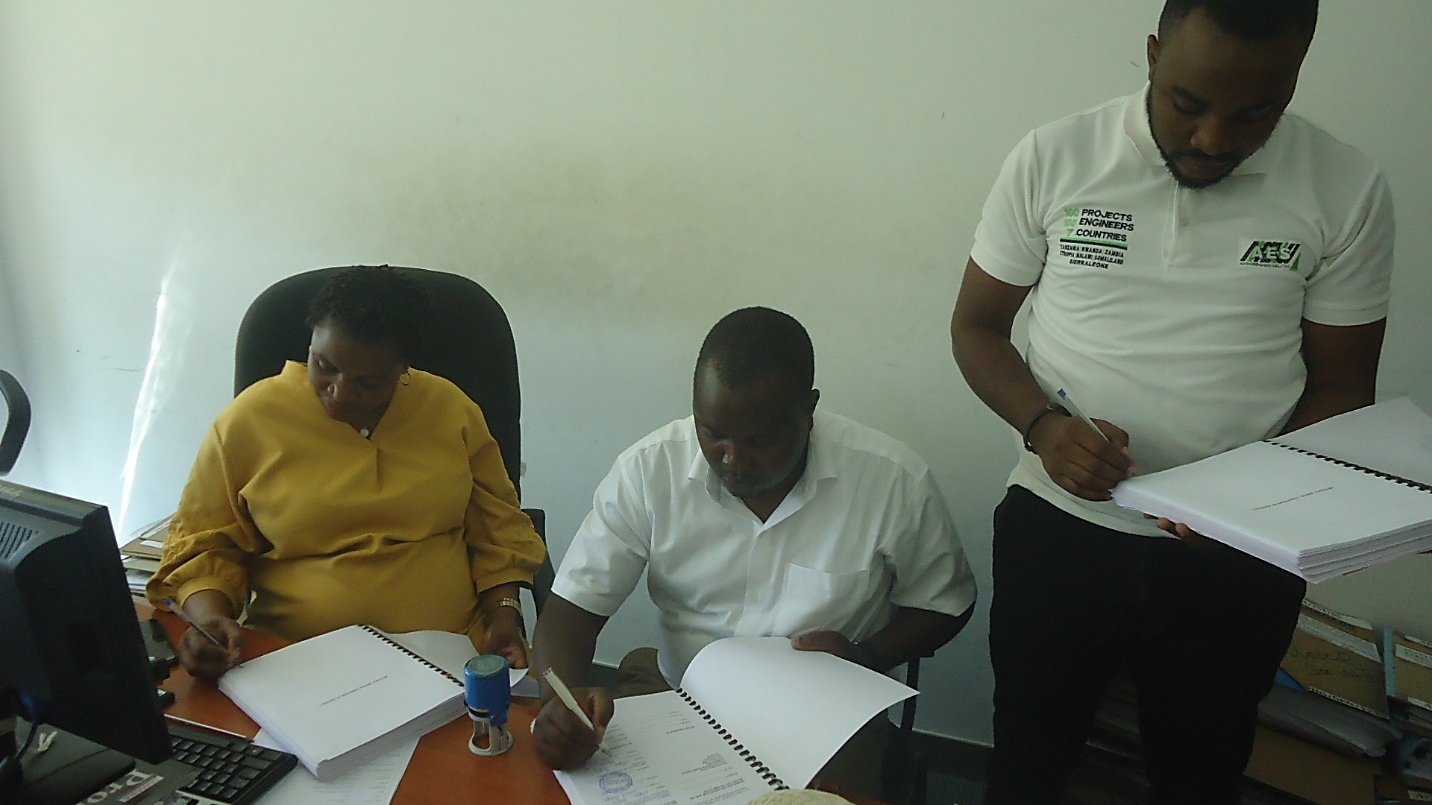 Signing Ceremony: AES's Human Resource and Legal Expert; Adv. Queen Mtove (left), AES's Civil Engineer; Eng. Alpha Nestory (Middle), AES's Head of Engineering; Eng. Mtani Silasi Mtani (Right)
CONTRACT SIGNING CEREMONY FOR CONSULTANCY SERVICES FOR DESIGN REVIEW AND SUPERVISION OF UPGRADING OF TARIME – MUGUMU ROAD (87.14 Km) TO BITUMEN STANDARD, LOT 1: MOGABIRI – NYAMONGO SECTION (25KM)
Advanced Engineering Solutions [AES] has signed a Contract with TANROADS for providing the Consultancy services for Design Review and Supervision of Upgrading of Tarime – Mugumu Road (87.14 Km) to Bitumen Standard, Lot 1: Mogabiri  – Nyamongo Section (25Km).
The signing ceremony was held at TANROADS Headquarter office situated at 3rd Floor, Shabaani Robert Road/Garden Avenue Junction, Dar es Salaam witnessed by TANROADS Chief Executive; Rogatus H. Mativila as Client's Representative, AES's Human Resource and Legal Expert; Adv. Queen Mtove, AES's Civil Engineer; Eng. Alpha Nestory and AES's Head of Engineering; Eng. Mtani Silasi Mtani as the Consultant's Representatives.
Advanced Engineering Solutions has already geared-up in undertaking the assignment for the successful realization of the desired project outcomes within the agreed timeframe.