Highway Design And Traffic Engineering

GEOMETRICAL DESIGN OF ROADS, RAILWAYS AND AIR STRIPS
We provide detailed engineering design services that include the preparation of three-dimensional layouts (plan, Profile and cross sections) for road alignments, railways and airstrips to accommodate various modes of transport with minimal environmental damage.
Our outputs are based on the use of advanced Automated Road design applications such as; 4D Plateia, ODOS, Mensura Genius, Civil CAD and Civil 3D
TRAFFIC STUDIES AND ANALYSIS
We carryout traffic surveys and analysis to forecast requirements for road geometric and pavement design and for economic and environmental evaluations of the road projects. The department engages and serve in developing transportation models that offer best solutions to transport problems in various fields such as roads, Airport and Railway facilities.
AXLE LOAD SURVEY AND ANALYSIS
Axle load Survey provides valuable and Essential Information that is required for Cost Effective Pavement Design and Preservation of the Existing Roads
SUPERVISION AND MANAGEMENT OF CONSTRUCTION WORKS
The department has an extensive knowledge and reputable experience in various construction supervision works. We ensure timely delivery, quality as well as value for money output based on client satisfaction.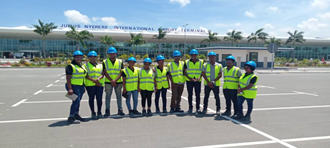 Site visit for one of our projects, Consultancy Service for Supervision Services for construction of Passenger Terminal III Complex and Associated Works & Facilities at Julius Nyerere International airport – Tanzania. Project status: completed