CONSULTANCY SERVICES FOR CARRYING OUT GEOTECHNICAL INVESTIGATION OF RUEMBE BRIDGE IN KILOSA DISTRICT COUNCIL.
Location within the Country: Morogoro (Kilosa District)
Name of the Client: TARURA – Reginal Manager
Start date 07/2021
Completion Date: 10/2021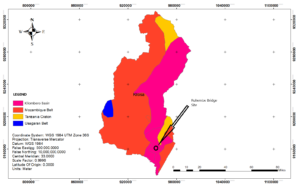 Duration of Assignment: 02 Months
Narrative Description of Project:
The main purpose of the ground investigation was to have a clear appreciation of the mechanical and physical properties of the soil strata on which the foundations of the bridge are designed to be installed.
Services Provided by Advanced Engineering Solutions:
Drilling 4 boreholes within the proposed site to a maximum of 25 m depth.
Performing SPT for soil strata and computing RQD for rock strata found in the borehole.
Collecting the disturbed and undisturbed samples at appropriate intervals.
Recording water table level.
Logging the profiles on each borehole.
Taking photographs of the profile on each borehole.
Performing laboratory tests on samples obtained from the site.
Analyzing and reporting the geotechnical findings.