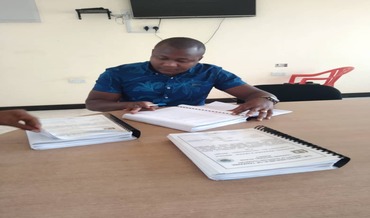 Advanced Engineering Solutions [AES] has signed a Contract with TANROADS Singida Regional Manager's Office for providing the Consultancy services for Feasibility Study, Detailed Engineering Design and Preparation of Tender Documents for Upgrading of Bariadi -Kisesa- Mwandoya- N'oboko- Mwanhuzi- Sibiti- Mkalama- Iguguno road; Mkalama- Gumanga- Nduguti- Iguguno section [89 km] to Bitumen Standard.
The signing ceremony was held on 27th September 2021 at TANROADS Singida Regional Manager's Office situated at Utemini road, witnessed by TANROADS Singida Regional Manager; Eng. Masige J. M as Client's Representative, and Eng. Godfrey Katimba [seen in the picture] as the Consultant's Representative.
Advanced Engineering Solutions has already geared-up in undertaking the assignment and is full of energy as well as high spirit ready to be a pivotal part for the project at hand on successful realization of the desired project outcomes within the agreed timeframe.